Champion the Cure Challenge, the region's only event whose proceeds fund local cancer patient care and research, proudly celebrates the individuals, businesses, and organizations that help bring the best treatments to Maine, contribute to future cures, and inspire others to join in the fight to defeat cancer.
Each year, The Challenge recognizes several honorees who are extraordinarily dedicated to the cause.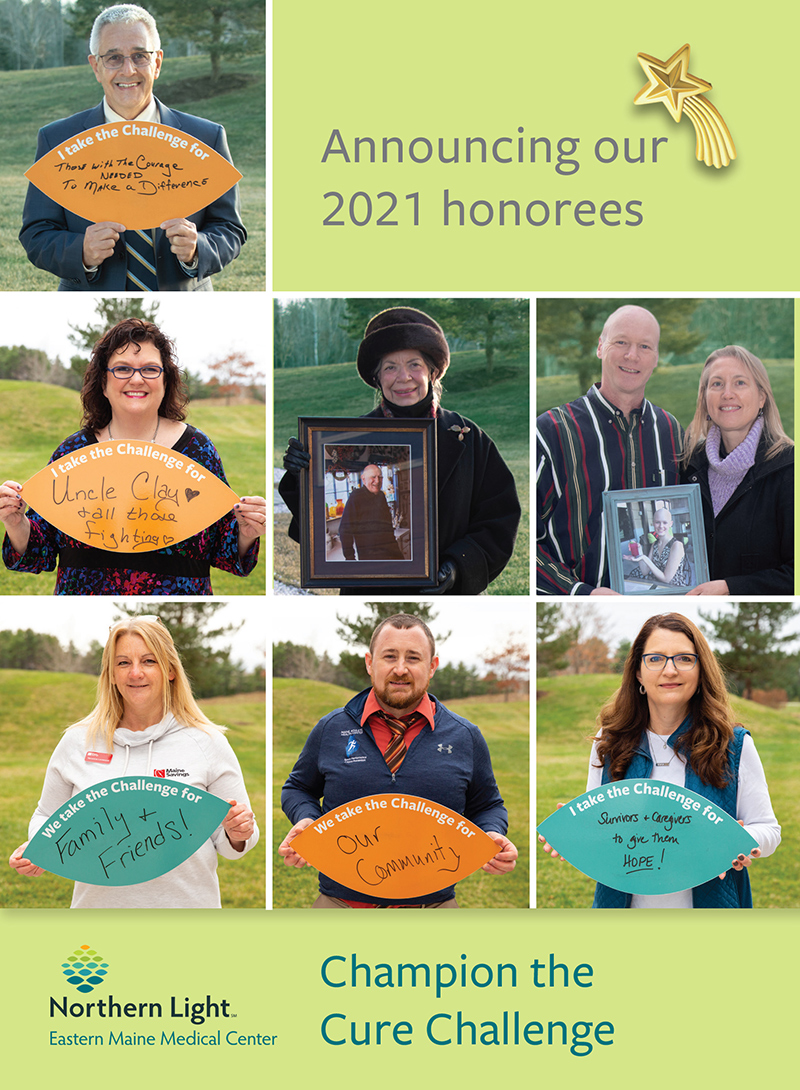 2021 honorees (above):
Allen L'Italien, RN, OCN, Honorary Chair
Marie Stewart-Downing, Terry Fox Award
Mart Lapin (posthumously), Terry Fox Award
Sienna Probert (posthumously), Terry Fox Award
Maine Savings Federal Credit Union, Corporate Champion
Healy Chiropractic, Community Champion
Jill Smith, Volunteer of the Year
Click here for our full 2021 Champion the Cure Challenge Announcement.

Past honorees:
Honorary Chair
2010 Lynne Spooner
2011 Jon and Nancy Dawson
2012 Thomas Openshaw, MD
2013 George Hale
2014 Susan O'Connor, MD
2015 Ric Tyler
2016 Geaghan Family
2017 Bill and Cookie Horner
2018 Marcy Black, RN
2019 Deborah Carey Johnson
2020 Brenda Farnham
Terry Fox Award
2010 Jeff Bennett and John Long, MD
2011 Don and Dora Winslow
2012 Sarah Robinson (posthumously)
2013 Kevin Griffin
2014 Judy Collier
2015 Jon Henry
2016 Caleb McGary
2017 Larry Morrill and Mike Openshaw (posthumously)
2018 Gert Nesin
2019 Michele Campbell
2020 D'arcy Main-Boyington
Volunteers of the Year
2013 Tom Violette
2014 Carole Quigley
2015 Veronica Levesque
2016 Tim Smith
2017 Jaclyn Silk
2018 Lorilei Porter
2019 Deb Neuman
2020 Memorymaker Photography and Nancy O'Connor Photography
Youth Champion
2011 Logan Lafayette
2012 Tommy Hosmer
2013 Carly and Johannah Philbrick
2015 Tyler Priest
2016 Athletes of Big Ten Cheer
2017 Madison and Brady Davis
2018 John Bapst Memorial High School Cheerleaders
2019 Parker Brown
2020 Brewer High School Cheerleaders
Corporate Champion Award
2010 Blueberry Broadcasting
2011 Dysart's
2012 People's United Bank
2013 Hollywood Casino
2014 Lanham, Blackwell & Baber
2015 Katahdin Trust
2016 Darling's
2017 Downeast Toyota
2018 Dunkin'
2019 Mt. Waldo Plastics
2020 Katahdin Trust Company
Community Champion Award
2014 Husson University, School of Hospitality
2015 The Rock Church
2016 Charleston Church
2017 Anthony John's Day Spa and Salon
2018 Pat's Bike Shop, Rose Bike, Ski Rack Sports, Slipping Gears (Ski Rack and Slipping Gears
2019 Ntension
2020 Target
Ray of Light Award
2018 Rita Brooks