The 2021 Challenge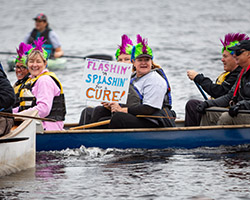 The 2020 Virtual Challenge was all about finding new and creative ways to maintain the spirit of The Challenge and continue to lead the way in the fight against cancer. While highly successful, we can't wait to see you in person in 2021! With many unknowns about what the next year will bring, we're making changes to the 2021 to maximize our flexibility and ensure the most successful event possible.
For 2021, the run/walk/cycle event will be a two-day celebration! Runners and cyclists will take The Challenge on Saturday, August 14, and walkers will gather on Sunday, August 15. Times for cyclists and walkers will be staggered, which will provide you and your team with more options for this year's Challenge and allow us to hold a safe and successful event.
When you register for this year's run/walk/cycle event, you will be required to select a date and time. If your team would like to ensure the same date and start time, please coordinate with your team before signing up and make sure that everyone on your team makes the appropriate selection when registering.
The Paddle will be held on September 12, 2021, and the Trail Ride is scheduled for September 18, 2021. The Paddle and Trail Ride will be similar to past events and will not have staggered dates and start times.
The Challenge will be better than ever in 2021. With your help, we can have a highly successful event that continues to provide critical support for local cancer research and patient care. Thank you for your commitment to defeating cancer!